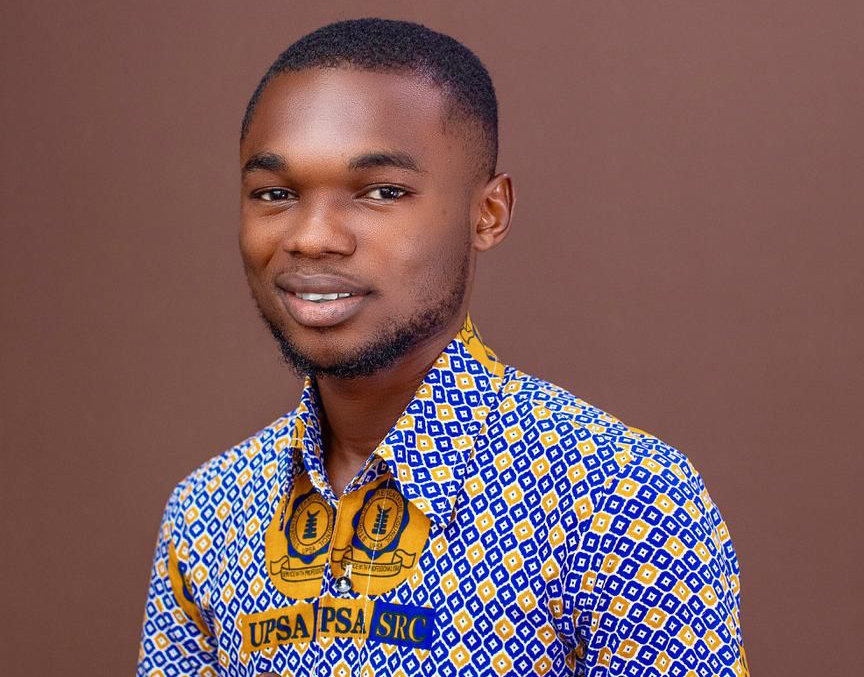 SRC Vice President: Michael Boakye Acquah
Michael Boakye Acquah is a young man inspired by dedication to hard work, success, and excellence with the belief that "wo y3 obi de3 yie aa na wo nso wo de3 y3 yie" and hence, has devoted himself to serve anyone he comes into contact with, willingly and wholeheartedly.
Michael is now a level 400 student, pursuing Bachelor of Science in Accounting.
He is a naturally born young leader who attracts followers by his recognized deeds. He has served in various positions in the University right from level 100 at the religious level, in clubs and associations, in his department and now the current SRC Vice President.
He started serving his colleagues from level 100 by helping them in terms of academics, providing assistance in the registration of their courses, and even giving counsel to some of them anytime they came to him for help. He was the only level 100 student at that time who handled the SRC educational committee for his level 100 colleagues because his deeds were recognized by the then SRC Vice President, Hon. Nathaniel Addo Junior (popularly known as JIL).
Michael is of the belief that, everyone can achieve his or her dreams if only the person builds the optimum capacity before pursuing the dream. Because of this, he organized many career summits to help build the minds of his colleague-students, organized soft skills programs like Ms Excel and PowerPoint, among other trainings.  He also helped in securing internship opportunities to help them gain some practical knowledge and experience from the corporate world and lastly, helped raise funds to pay the fees of some financially challenged students while occupying the position of the Department of Accounting Students Association's (DASA) Vice President.
Due to his influence, he was awarded an honorary citation as the UPSA brand ambassador to Ghana Tertiary Excellence Awards. He is currently serving as a campus brand ambassador to the National Students Platinum Awards and Harley Reed Ghana Limited. He was also a volunteer-tutor at United Way Ghana in 2021 to help in their Home Literacy Project.
Below is a list of the leadership positions held by him:
Vice President, Department of Accounting Students Associations – UPSA
Vice President, Intercessory Prayer Network-UPSA
Organizer, House of Faith Youth Ministries (Obuasi)
Public Relations Officer, National Students' Serve Association – UPSA
Science Club President, Breman Asikuma SHS
Senior Boys' Prefect, Independence JHS
Can be reached through any of the following:
WhatsApp – 0559881266
Tel – 0559881266
Instagram – @the_radiant_mba
Facebook – @Michael Acquah
Twitter – @i_am_mba
LinkedIn – @Michael Acquah
Gmail – [email protected]
Yahoo – [email protected]